Mandran, N., Vermeulen M., Prior, E. (2022). THEDRE's Framework: Empowering PhD Candidates to Efficiently Implement Design-Based Research. Educ Inf Technol. (accepté). Lien vers la revue de Springer Education and Information Technology
Books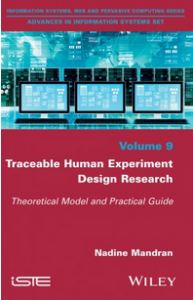 Mandran, N. (2018). Méthode traçable de conduite de la recherche en informatique centrée humain: Modèle théorique et guide pratique (Vol. 8). ISTE-Wiley.
Mandran, N. (2018b). Traceable human experiment design research: Theoretical model and practical guide (ISTE, Vol. 9). Wiley.
Mandran, N., and Dupuy-Chessa, S. (2018). Supporting experimental methods in Information System research (MATUI). In 2018 12th International Conference on Research Challenges in Information Science (RCIS), (IEEE), pp. 1–12.
Mandran, N. & Dupuy-Chessa, S. (2017). THEDRE: A Traceable Process for High Quality in Human Centred Computer Science Research. In Paspallis, N., Raspopoulos, M. Barry, M. Lang, H. Linger, & C. Schneider (Eds.), Information Systems Development: Advances in Methods, Tools and Management (ISD2017 Proceedings). Larnaca, Cyprus: University of Central Lancashire Cyprus. ISBN: 978-9963-2288-3-6.
Nadine Mandran, Sophie Dupuy-Chessa, Éric Céret. Processus de conduite de la recherche et ingénierie des processus : vers une fertilisation croisée . INFORSID , May 2017, Toulouse, France.
PHD
Nadine Mandran, THEDRE : Langage et méthode de conduite de la recherche . Traceable Human Experiment Design Research. Doctorat spécialité informatique. Université Grenoble alpes. 24 Mars 2017.